FEATURES OUR CLIENTS ENJOY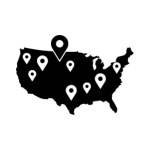 With a presence across 25+ Markets in the US, LBS provides localized support in tune with our clients needs.

LBS has won multiple 'Top places to work' award, leading to Happy Employees and Satisfied Clients.

Our worldwide network of experts ensures the lowest prices in North America.
LBS won the coveted 'Gold Star Certificate' from "Better Business Bureau"

From fortune 500 to startups, LBS's success stories span companies of all sizes.

Contact our dedicated client managers anytime for phone/video call support.
WE ARE PROUD FOR THE RESULTS IN PAST 10 YEARS
Brands That Our Experts Have worked With